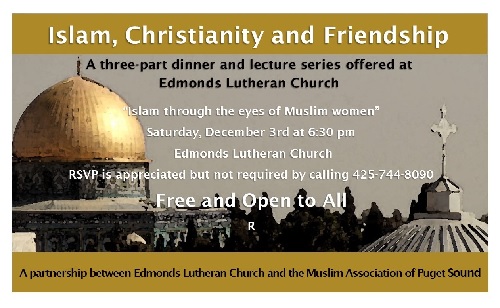 Join us Настойка for a free dinner and lecture at Edmonds Lutheran Church on Saturday, December 3rd at 6:30 pm. The title of the panel discussion will be "Islam through the eyes of Muslim Women" and will consist of a richly diverse panel of 5 Muslim women. This event is free and open to all. Understanding, solidarity and friendship is the only way forward.
About our speakers:
Aneelah Afzali is an attorney and graduate of Harvard Law School. She currently serves as an interfaith leader, social justice advocate, strategic adviser, community educator, motivational speaker, mentor, and aspiring author.
Ann Holmes Redding, Ph.D, was an Episcopal priest for 25 years and has been a Muslim since 2006 when Islam converged with cheap jordans online her Christian faith and practice. She is founder of Abrahamic Reunion West, a non-profit committed to developing enduring relationships among Jews, Christians, and Muslims with the goal of global peacemaking. She is co-author of Out of Darkness into Light: Spiritual Guidance in the Quran with Reflections from Jewish and Christian Sources.
Samia El-Moslimany, a Seattle native and a University of Washington alum, is the daughter of two of Seattle's pioneer American Muslim activists. Samia is the managing owner of one of Arabia's leading photography studios She has written and photographed for numerous Cheap nba Jerseys national and international newspapers and magazines including for the cover of TIME magazine.
Rilla Al-Haddar was born in Jeddah, Saudi Arabia to an Indonesian mother and ethnically Yemeni father. At the age of seven, Rilla came to live in the US when her adopted family the El-Moslimany-Dehlawis moved back to Seattle. Rilla has been working as a Licensed Massage Practitioner for the NFL Jerseys Cheap last 2 years. She has volunteered for many years at the Islamic School of Seattle and has counseled elementary campers at the Muslim Youth Camp of California.

Michaela Corning
is a Washingtonian, born and raised, who chose to embrace Islam in 1999. She has been an active and integral part of the Muslim community since then including teaching new converts about the faith and supporting
cheap nfl jerseys
them as they navigate the sometimes rocky waters of their new faith community and the tension that is often created with their non-Muslim friends and family. She has also been providing modest fashion to
cheap Air Jordans
the local and national Muslim community since the inception of her retail business, Al-Andalus, in 2000.
Come for an evening of fellowship, good food and enrichment!
Our speakers are available for interviews.
Saturday, December 3rd at 6:30 pm
Edmonds Lutheran Church
23525 84th Avenue West
Edmonds, WA 98021
425-744-8090